2023 National User's Conference
Welcome to 2023 ProPhoenix National User's Conference
For our 20th year, we have a very special conference planned. Please stay tuned to this website, and future communications for more details.

Save the dates!
Dates : September 25 – September 28, 2023
Where : Kalahari Resort and Convention Center, Wisconsin Dells, WI
We are excited to welcome all User Agencies in the Wisconsin Dells this fall. The Kalahari Resort and Convention Center is loaded with amenities in a beautiful, Wisconsin autumn setting. Check out their website: www.kalahariresorts.com/wisconsin for more information.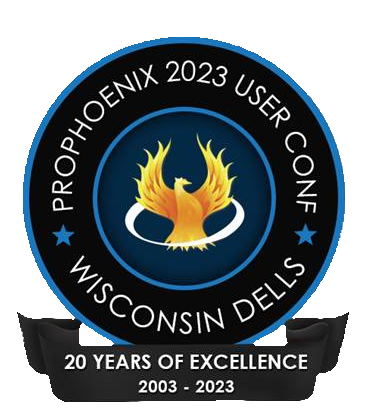 In CRM under the Customer Module click on User Conference.
Click on add new at the top right of screen.
A registration screen will open with details and instructions.
Complete the registration form. Mandatory fields are shown in bold red.
When the form is completed click on the Save/Complete Registration button at the bottom to finalize your registration.
Once the registration is completed an email confirmation will be sent.
If you do not receive an email confirmation you should reach out to your ProPhoenix Account Manager so that they can check the status.
If you are having trouble with CRM, please contact Alexys Cloran or Sue Weiher (609) 953-6850
Cancellation Policy:
If cancelled by 8/31 – full refund or send another user
​If cancelled by 9/15 – 1/2 refund or send another user
If cancelled after 9/15 – we would encourage you to send another user in your place, otherwise you will forfeit the conference fees.
These dates are based on reservations and arrangements made for convention meals and services.
Early Registration Pricing is now available.
Early Registration: $745/person: includes all meals, breaks and sessions. Deadline: August 15th, 2023
Final Registration: $795/person: includes all meals, breaks and sessions. Deadline: August 31st, 2023
The date of the entry in CRM will be used to determine the cost per person. 
Please use the Booking website or you will not be guaranteed the WI state rate for rooms. 
The rooms will be $90/night + tax for single occupancy. 

Our group will not be charged resort fees although we have full use of the resort.             

For all questions and clarifications regarding the Conference, please contact: Sue Weiher (formerly Sue Larsen)